AR Rahman's Intro and Music Performance in 2004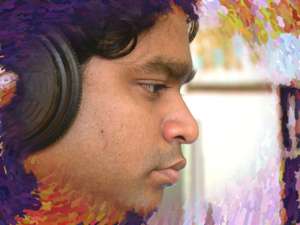 http://www.james-asher.co.uk/images/ar1a.jpg">
Being a die hard fan of
AR.Rahman
(chk out his profile @ http://www.khojhyderabad.com/ent/Profiles/A%20R%20Rahman.asp), I really loved to listen and criticize his music. I still remember a outing to a cassette shop in 199* with my cousin for buying rajinikanth's Annamalai Music. It was K.Balachander Production and back side of the cover was ad for their next project titled "Roja". Was little surprised to have a new name in the cover and was wondering what kind of music he will contribute to Manirathnam Movie.
Time went on and I first listened to Roja's "Pudhu Vaelai Mazhai" in DD "Oliyum Oliyum". To say the truth, I got freezed with Jazzy Michael Jackson kind of Music.
No wonder he won National Award along with our Vairamuthu ("Meen Pudeethu Meendum Aatreel Veeda Aasai"…who can ever think of these lines?)
I guess his Music in Meenaxi (Hey Rishta, Chinnama), Yuva (Fannaa, Jana Gana Mana, Kudha Hafees) Swades (Yeh Jo Desh, Huhi Chala) in Hindi was pretty good followed by some of his wonderful music in New(Tamil Movie Name).
Blogging of AR.Rahman will continue…