Rang de Basanti - another review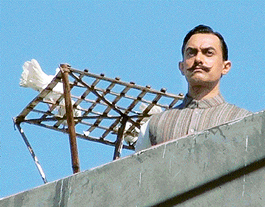 Rang de Basanti is unusual and honestly made film by Rakesh Mehra and everybody should watch it atleast once in theatre to intake the real emotions & sound. Rahman has stirred the movie with wonderful tracks like "Lukka chuppi" and "to the mahal of the taj". his background score is just killing with good hummings and bhangra. Mr.joshi, new lyricst, has done a decent job to pen vividlyrics. all the actors and actress have just done terrific dialogue deliveries. amir, siddharth, maddy, kunal kapoor, sharman joshi, soha ali khan have actually lived their characters. slick editing was the plus point but the photography didn't live up to the expectations except few digital bike racing shots. no wonder this movie hit
IIT
too.
Such a relaxation for hindi movie goers after series of skin flicks and flops.
To me after Asutosh's Swades, another decent movie from bollywood.
After seeing RDB, Some of my co-workers, hindi speaking people comments are these which i note as very funny & pathetic.
1. Bunty our Babli aachaa thaa naa. RDB thoadaa serious movie thaa.
2. Woh bechaari Soha abhee kyaa kaaregee ?
3. thoda over emotional thaa. Kal hao na hao khee taraaf.
God save bollywood !